Regular price
$129.99 USD
Sale price
$79.99 USD
Unit price
per
Sale
Sold out
Discover the Future of Hair-Free Beauty with No Hair Laser Remover🌟Effortless Hair Removal Smooth, hair-free skin🌸lasting Results Long-term reduction achieved💧Skin Comfort Gentle, painless treatment. ✨Convenience Unleashed: Salon-qualityresults at home.
Features:
1.Positive and negative ions
utilize the principle of the absorption of positive and negative ions to remove the dirt in the deep pores and
thoroughly clean them; through iontophoresis, the beauty ingredients are penetrated into the skin.
2.Vibration:
use mechanical vibration and voltage stimulation to tighten skin, increase elasticity, and increase metabolism.
3.Warm
warm massage promotes absorption, so that wrinklescan be stretched and skin will become fuller.
4.Red light
can effectively stimulate the skin, revitalize collagen, improve dark skin and reduce fine lines and wrinkles.
5.Blue light
It can effectively improve skin problems, reduce acne and pimple and help to kill bacteria. Long term use can make skin rejuvenation and lead to a health skin.
6.Green light
It can promote the microcirculation of the body surface, dredge lymph and drain swelling.
3 Modes:
1.Clean mode (Green Light)
Clean up trash from deep pores to shrink pores, eliminate acne, and solve dull skin.
2.EMS mode (Red Light)
Effectively stimulate and relax the skin and help skin care product go deeply to keep skin moist.
3.Hot mode (Blue Light)
Gently awakens and relaxes the skin, helping the skin restore its vitality
Specifications:
Name: Neck Beauty Device
Material: ABS
Output voltage: 3.7V
Battery capacity: 500mAh
Power: 2.5W
Input voltage: 5V=1A
Size: 89x47x120mm
Auto turn off: about 5 min
Charging time: about 2h
Material: Plastic
Size: Approx 3.6''X4.7''X2'
Working Principle: Vibration Massage
Manufacturing Process: Hand Made
Function: Lifting
Model Number: Neck Face Beauty Device
Number of Pieces: One Unit
Type: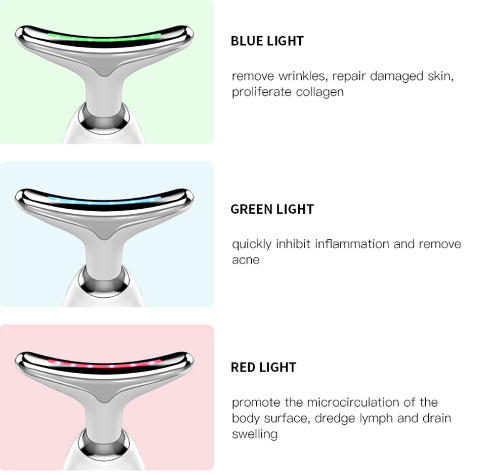 Share
View full details
Good price and performance
Good price and performance l'Il write back with an update.
Good luck
So far so good. I love the improvement in
my face in such a short time.
Great product
Great product, I received before the deadline and everything is correct.
Congratulations to the company
Excellent
Excellent Product, fully consistent with the company's description and photos.